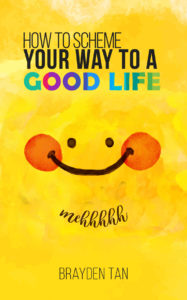 ABOUT THE BOOK: How To Scheme Your Way To a Good Life
Filled with real world experience and cautionary tales, 'How to Not Mess Up Your Life' will be your guide through life's many unexpected turns and downhill slides, all the while laced with heavy sarcasm and hilarious stark truths about the many unfortunate realities living on earth has to offer. A great reference for key life skills and how to keep things in check, this book is a perfect testimonial for all that life has to throw at you and how to handle it.
This book has been carefully thought to cover important aspects of our life, such as :
•Letting go of your younger years
•Your first job
•College
•Getting a real job pt 1
•Getting a fake job
•Getting a real job pt 2
•Dealing with friends
•Dealing with strangers
•Time management
•Dating
•Relationships
•Health
•Conclusion
If you're seriously looking for a way to change your life or if you just want to have a good laugh and if you don't mind me being brutally honest and having a crude humor, I really think this book is for you. It is the first step to having a better life! So what are you waiting for?
Scroll to the top of the page and click the 'buy' button, damn it! Haha, thanks a lot for the support!