The Longest Haiku
---
Available on Amazon.com for $5.99!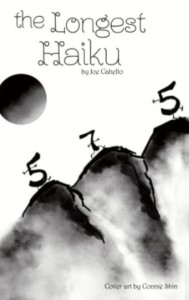 No one said I could do it.
No one said I should do it.
Then I did it.
This book holds the longest haiku ever written, using a syllable hack that will surely be highly debated for years to come.
From the comedic mind of Joe Cabello, learn the very nature of what a haiku is and why it exists. This book will make you laugh, then make you cry (but if it makes you cry then laugh, that's good too)
PLEASE NOTE: This book is one poem with the letter "m" repeated for over 65 pages. There is more content than the repeated "m," but the majority of the book will simply be that. It is an "artful joke" that will forever change the landscape of your coffee table.