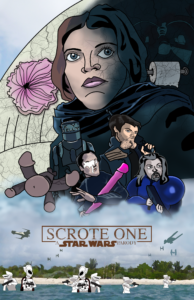 The hilarious instant cult-classic, Scrote One is a loving parody of the hit Star Wars story, Rogue One.
The only way to stop the Empooper and their weapon of ass-destruction, is a deadly mission lead by Jyzz Erso and the Rebel Assliance — a bunch of scrotes… …together they are Scrote One.
---
When Jyzz Erso finds out her father is still alive and helping the Empooper — the tyrannical force responsible for killing the Browneye and enslaving the galaxy – she is forced to fight alongside the Rebel Assliance to find him.